Certified Professional Photographer
---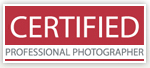 Why Hire a Certified Professional Photographer?
In the age of digital cameras, many people in our region will offer to do your portrait for a fee. How do you choose between the many advertised photographers? Act as if you are choosing a hair colorist or an electrician. You know that the beautician and the electrician who are licensed know what they are doing. So for your portrait, choose a Certified Professional Photographer.
…………………………
…………………………
Certification in the United States is overseen by the Professional Photographers of America. To become a Certified Professional Photographer, I passed a lengthy written exam. Five judges agreed that all 15 of my portraits revealed high levels of technical skill.   Of the 15 portraits, 6 images were for mandatory topics, such as the low-key and the short-lit images on this page.
The CPP credential must be renewed every three years.  One way to satisfy the renewal requirement is continuing education.  I attend week-long classes and conferences to keep track of the latest equipment, methods and trends.
PPA has assigned me the role of a CPP Liaison officer, which means that I proctor exams in my studio and answer questions of PPA members about Certification.
Because I am certified you know that your portrait will be well worth every penny.
Copyright © Dandelion by Pexeto